FAILED IVF?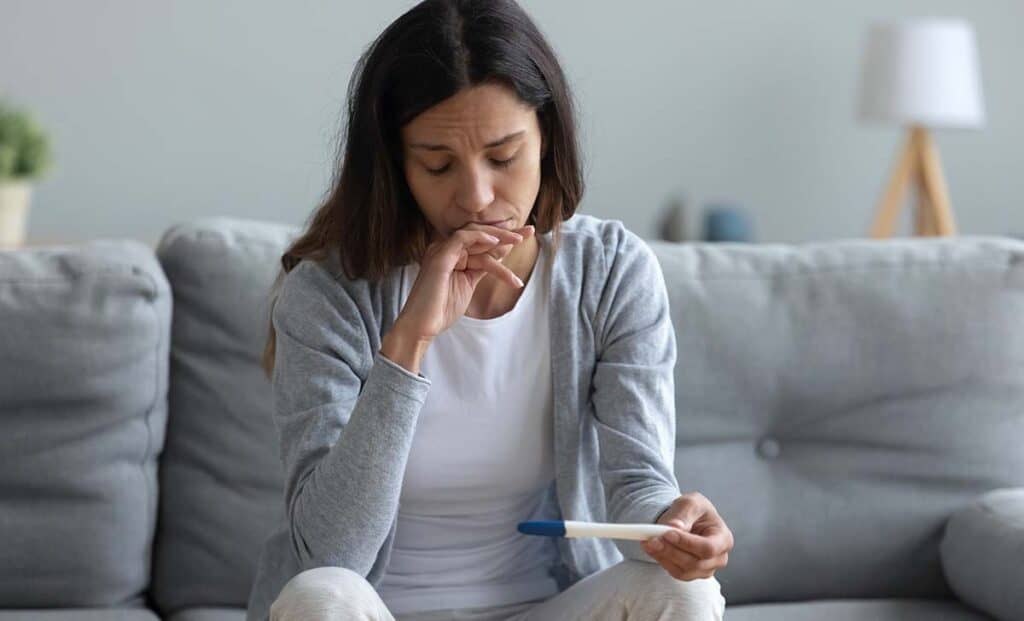 You might be wondering 'Why does IVF fail?'
We have heard many success stories about in-vitro fertilisation (IVF) treatments from friends, family or on the internet. However, it's not often that we hear about failed IVF, usually because it is a very emotional subject for those who are aspiring to be parents.
It does sometimes take two or more cycles of IVF to achieve a successful outcome. While this can take its toll on you physically, emotionally and mentally, it may help to know that you are not alone in your struggle, that there is help available from fertility experts and that IVF failure is not your fault.
When an IVF cycle fails, many people feel grief, anger and frustration. It's extremely normal to feel these emotions, but you should not blame yourself or your partner. IVF can fail for many reasons, and the chances are that it is completely out of your control. Talk to your fertility specialist who will be able to explain what may have happened and what steps to take next.
WHAT IS THE REASON FOR FAILED IVF?
Couples often ask this very reasonable question. However, there is not a good, short answer. Many couples will have a successful second IVF. The chances for that happening depends on many factors,some of the most common reasons why INVITRO fertilization fails are:
Female Age
As women grow older, their eggs decrease in quality and quantity. It is well known that women have less chance of becoming pregnant as they age, a decline in egg quantity and particularly quality also affects the chances of a clinical pregnancy or live birth through IVF treatment.
Embryo Quality
During the laboratory portion of IVF treatment, the female's eggs and the male's sperm are mixed together with the aim of creating an embryo. Embryos can appear healthy in the lab, but when implanted into the uterus there is a possibility that they fail to implant
Ovarian Response
In the beginning of IVF treatment, the female is required to administer a daily injection of a fertility hormone called follicle stimulating hormone (FSH), which aims to increase egg production. Some women's ovaries do not respond correctly to this medication and thus fail to produce multiple eggs for collection.
Implantation Issues
This means that the embryos failed to implant in the uterus. This could be because of the presence of uterine polyps, a premature increase in progesterone levels, an endometrial lining that is too thin, or an infection of the uterus. "It is not your fault if an embryo fails to implant,"
Lifestyle
As with a natural pregnancy, maintaining a healthy lifestyle before and during IVF is likely to help conception. It is wise to quit smoking a few months before you begin IVF. Achieving a healthy weight will also benefit you, as well as maintaining a nutritious diet and exercising regularly.
Chromosomal Abnormalities
IVF can fail due to embryos that have chromosomal abnormalities. This means that the embryo has a missing, extra, or irregular portion of chromosomal DNA. The body then rejects the embryo and this results in IVF failure. Chromosomal abnormalities could be inherited from one of the parents or be newly developed during the early stages of the embryo division.
WHAT TO DO AFTER A FAILED IVF?
The first IVF cycle will often be successful at a high quality program.
Unfortunately, many couples will not have successful first cycle IVF results and will need to consider a second cycle.
Let a week or so pass in order to make the difficult adjustment to the devastating news that your cycle did not succeed. When you feel ready, schedule a consultation with your IVF specialist to go over what might have been learned from the failed IVF attempt.
It is important to know whether the causes are recurrent—and if they can be corrected—and what modifications need to be done before and during the second IVF cycle.
In order to maximize the chances for a successful second IVF try make sure that your doctor has carefully reviewed the issues mentioned above .
Get an honest estimate from your IVF doctor on your chances for success rates with a second IVF try.
A few of the assessments which can be performed to get to the root of the IVF failure include:
Infection screening
Immune testing
Pre Implantation Genetic Testing
Assessment of uterine cavity
Karyotyping
Sperm assessment(DFI)
If you understand the reasons why IVF fails and discuss your situation with a competent doctor, you should be able to find a way forward. Outcomes are always uncertain, but if you think through the process logically and focus on solutions, we can bypass the problems and prepare a plan of action for the next cycle.